During the Professional Developer's Conference of 2000 Steve Ballmer heavily advocated the importance of Software Developers for Microsoft. Why would Microsoft want to cater for developers so badly? Don't their own developers do enough work? Well, it was at that conference that the .NET Framework and C# programming language were announced. These tools have let developers create amazing things from native Windows applications, such as Steam, that has changed the way that product distribution works for the gaming industry. Web based applications range from the smart personalised online store that Diversus built for Royal Life Saving WA and now to cross platform mobile applications with the help of Xamarin. (For those of you who need a reminder, here's a short and somewhat unsettling video taken during that conference.)
This is innovation. Microsoft wanted people to take their products and change them, use them, integrate them and do great things with them that were cutting edge and innovative. They knew that some of the things that developers were creating with their products would change peoples lives and propel their brand even further ahead of competitors, such as Apple who typically close their doors to those wanting to expand on their products. As people have built things with Microsoft's tools, they have learned to use a wider range of Microsoft products. It has helped to drive their business and Microsoft has also become synonymous with innovation, particularly by those who innovate. This is caused by the fact that we know what new technologies are coming out of the "tech giant" and they let us develop for it before most people even know it exists.
The Government is like Microsoft in that they want to see some of the same benefits from people creating new things. Innovation can for example help drive GDP of the nation upwards and can encourage students to learn things that will allow them to be more useful in the workforce of the future. Today, it's hard to be a good developer without being somewhat creative. Innovation requires creativity. The Government is trying to get students to learn to innovate and it may not only be because new technology has become much more important now than it was in the past, but also because there are gaps in the curriculum that haven't allowed children to learn how to be innovative.
Thankfully people like Anthony Williams see the value that innovation in science and technology can bring to students and teachers. "We really want students to start thinking like scientists, innovation is the way to go… If we start them off young in Year 7 and Year 8 then we can develop those critical thinking and problem solving skills to solve real world problems, that's definitely going to help". Anthony is a senior school science teacher from Ashdale Secondary College in Perth's Northern suburbs. Recently he set off on an endeavour to lead the students there in an extra curricular innovation project with drones. The children will work in their free time on the drones building them from scratch. The kids will also be able to build and repair parts with the school's 3D printers which were received through another grant pertaining to a previous 3D printing innovation project. In that project students learned to print items such as atoms, bones and skulls.
Anthony is hoping to get the kids to use their 3D printing skills to allow them to experiment with different configurations of propellers and other parts for the drones as well as different material types. From there the kids will be doing scientific testing, which is already a part of the curriculum. Older students will have the opportunity to make their own power circuit boards and electronic attachments for the drones, as well as program their internal software.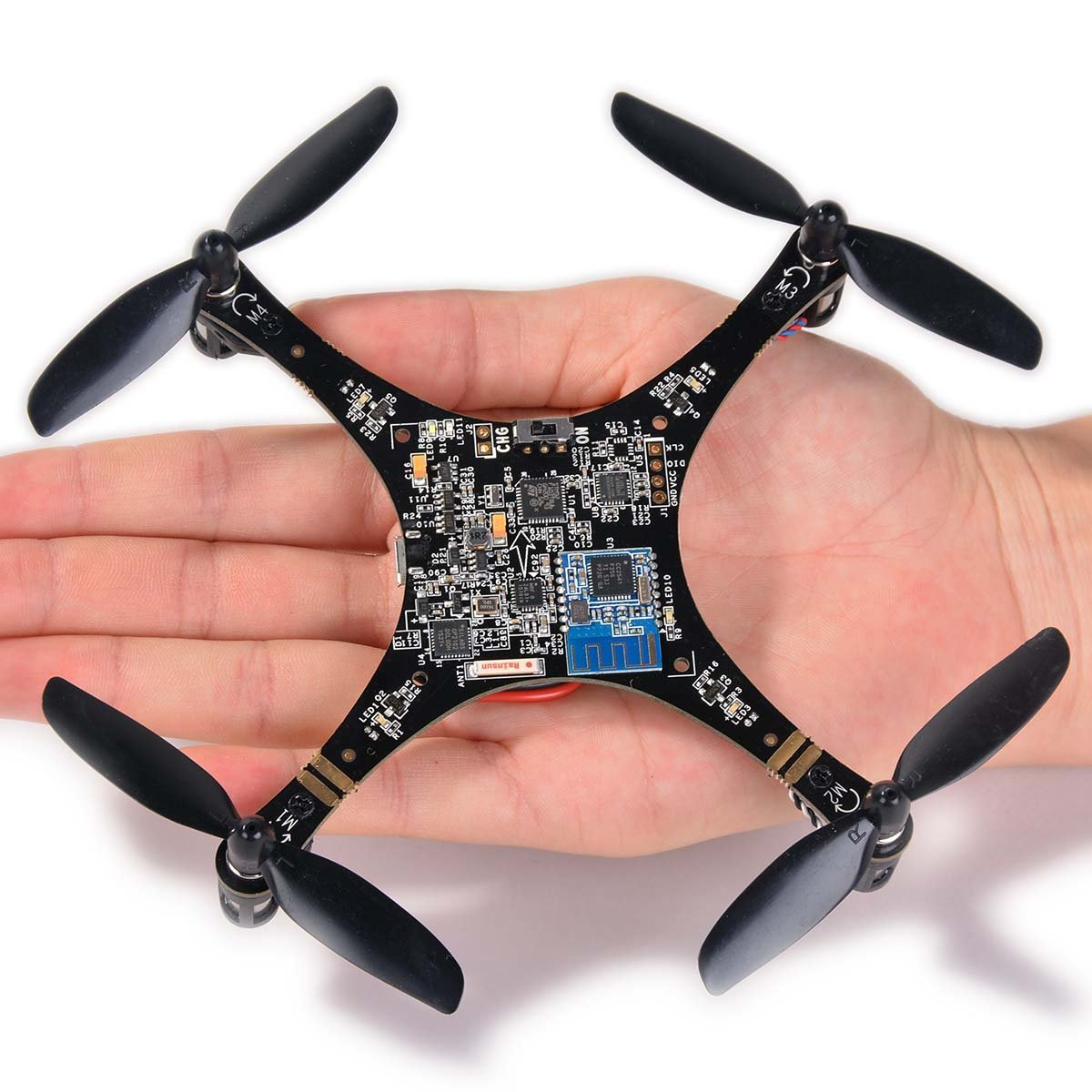 The Crazepony Mini Quadcopter has an open source PCB to allow development (Source: Amazon)
According to Anthony, the Government's priorities when considering grant recipients are whether or not the proposal is in the STEM area. STEM is an acronym for science, technology, engineering, and maths.
Although it's encouraged to relate to the curriculum, these important skills are not directly taught to students. It's up to innovators like Anthony to teach these skills to the children. He believes that the skills that students are learning from these innovation projects are important for the future and that doing projects such as these can also supplement the learning that the kids are doing in class. Anthony says that the same sort of circuitry skills that are being taught now in science classes, where the goal could be to make a light bulb come on, are being taught in the drone project as well. The difference is that it's much more interesting to get a propeller to spin and a drone to fly than it is to see a light come on.
Sparking kids interest in innovative solutions can have a roll-on effect to the type of careers they will consider in the future, but also the kinds of things they set out to learn. Recently the Junior Robo Cup was held at Curtin University, just a glimpse of some of the opportunities that Curtin gives students when it comes to innovation. This event will host students who have taken the challenge to build robots that either play soccer, set out to navigate a maze and perform a rescue or dance and then put them to the test. Without being given the proper tools and knowledge from early on, children can easily miss out on such opportunities. It's up to the Government, not just the parents, to provide these opportunities for kids.
Malcolm Turnbull has been an advocate for innovation and has recently heightened efforts to allow students to enjoy "high-wage, high productivity jobs" in their future. A focus on school students learning coding and these STEM based programs will help to achieve innovation minded youth.
Pre-service teachers can also benefit from innovation projects. According to Anthony, the physical education teachers at Ashdale have been looking into in-ear devices which will allow a mentor teacher to communicate with the trainee teacher, giving them tips and feedback in real time during their lesson. "We're actually trying to give them real life feedback. The idea is that if the pre-service teacher is taking a PE class on the other side of the oval they can go off and talk to their class and will get real time feedback in ear from the mentor teacher telling them what to do, or if his back is turned that there are kids talking. Innovation doesn't just have to affect the students it can affect education as a whole".
I also spoke to Renae Jackson who is also a senior school science teacher at Ashdale. Renae has used a variety of technological solutions as aids in her classrooms. She said that better 3D imagery and Virtual Reality as well as Augmented Reality learning tools would be enthusiastically welcomed into the classroom. Already she has used 3D models in her classes to make subjects more interesting for her students as well as easier for them to understand. A recent example being this 3D heart model that was used in a Human Biology class.
As a nation, it's important for us to recognise the types of technologies that will be used in the future and the types of jobs that children may be finding themselves in. It's time to look away from the traditional, stale career paths that used to have good job outlooks. Students should be allowed to fall into the jobs of the future, driven by innovation, to shape the world of tomorrow.
[As written by one of Technical Consultants]
Thank You to Anthony Williams, Renae Jackson and Sharon Johnson for their time in answering my questions.
Useful Links:
Government Research and Innovation Information