Diversus continues to support the ICT community by discussing trends and opportunities in the ever-changing landscape. With partner, UiPath, we will present at the ACS WA September Tech Event on Tuesday, 17 September. The topic is
Deep Dive into Robotic Process Automation (RPA)
. The event will be held at Adina Apartment Hotel (next to the Convention Centre) 5:30pm - 7:30pm.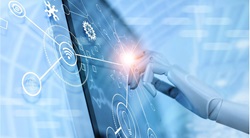 Robots are here to stay! The faster organisations harvest their potential, the faster they can create a competitive edge. RPA delivers direct profitability while improving accuracy across organisations and industries. Enabling RPA will streamline workflow and provide scalability and flexibility.
UiPath WA Account Director, Jamie Cousins will discuss how RPA can accelerate digital transformation programs, and Diversus Senior Consultant, Warren Lee will demonstrate how software robots can be used in day-to-day work. With the ability to configure computer software, or a "robot" to emulate and integrate the actions of a human interacting within digital systems, your organisation will unleash a resource that never sleeps, makes zero mistakes and allows you to redeploy employees to more customer-centric activities.
RPA track record:
Implement fast — within three weeks of using RPA to process sick leave applications, the automation delivered error rates reduced to 0%, manual effort reduced to 5%, and processing time reduced by 80%
Reduce back office effort — a global retailer implemented RPA to validate closing information for each of its registers across hundreds of stores around the world and increased in-store employee morale
Improve customer service — a trade credit insurance company used RPA to automate the credit-limit-request underwriting process saving 2,440 hours of human work a month
ABOUT THE PRESENTERS
Warren Lee
, Diversus Senior Consultant
Warren is passionate about technology with a focus on enterprise cognitive technology transformation. Graduating with first-class honours in mechanical engineering from UWA, Warren embarked on his technology career at IBM on the project teams delivering system development and integration in the oil & gas sector. He has held various roles, including business and data analyst, application tester, user interface (UI) and user experience (UX) designer, and cognitive application analyst. With a base in mechanical engineering, Warren weaves this knowledge into technology automation projects to deliver innovation and success.
Jamie Cousins, UiPath WA Account Director
Jamie is tasked with establishing the UiPath presence in Western Australia. Over Jamie's career in IT, he has helped customers navigate the journey through the 3rd industrial revolution and now into the 4th industrial revolution with Artificial Intelligence and RPA. Jamie is passionate about putting customers and workers at the heart of this new technological wave to do his small part to influence the future shape and consequences of innovation.

To secure your place?today, click HERE.