Since 2017, AURaffles has been helping Not-For-Profits (NFPs) raise more money for their cause. From February 2017, nearly 100 campaigns have generated over $1,000,000 across 20 NFPs. The reach and impact of the innovation have disrupted the way NFPs have traditionally fundraised. We have truly changed the fundraising paradigm evolving manual paper raffle tickets to a 24/7, four-click, instant-fulfilment digital solution.
The Australian Computer Society (ACS) has recognised that this digital disruption has forever changed the NFP industry in 2018 and awarded Royal Live Saving Society WA (RLSSWA) and Diversus Overall Category Winners in Service Transformation for the Digital Consumer.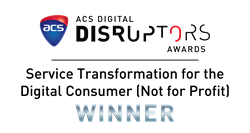 To successfully deliver the digital solution to the consumer, RLSSWA needed to transform internal processes and upskill staff. This innovation had a large change program that required the project team to work with all staff across the organisation. The project team brought different skills and expertise to the project and worked together to conceptualise, develop and deploy the innovation.
Within RLSSWA, there was a cultural shift from the old paper-based system to a new way of doing things. Understanding Customer Experience (CX) Maturity Models and applying methodologies such as PRINCE2 and Agile, RLSSWA have continued to evolve the 120+ year old organisation to meet the needs of a 21st-century workforce.
The ACS also recognised the transformation required by the RLSSWA team regarding evolving the old paper-based processes to new digital solutions. Many of the staff needed to increase their digital prowess, learning new systems and new ways of doing things. For this transformation, we were awarded Gold in Skills Transformation of Medium Work Teams.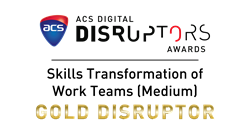 "These awards are a testament to the collaboration between RLSSWA and Diversus which has resulted in true digital disruption through incremental innovation. The journey has only been possible through the efforts of both teams looking to make a difference together. We want to thank everyone involved in this project!" commented Dien Tang.
"Technology is only beneficial if you know what to do with it. It's about using the right tools to generate the outcome. As we continue to work and innovate in the 4th Industrial Evolution, we will experience endless disruptions; but with the people behind the innovations working together as a team, the possibilities are endless. Thanks to you all for working together and making an impact on NFP fundraising," commented Claude De Lucia.
"Thank you all for the unending commitment and dedication on both sides of the project to make a difference. Every dollar we earn or save through the innovation is put back into life-saving programs and supporting those affected by fatal and non-fatal drowning. With a reliable, easily deployable solution, we have not only made a difference within RLSSWA but 20 other not-for-profits are better off because of it," stated Allan Godfrey, CMO, Royal Life Saving Society WA.